Welcome! Thanks for stopping by. Hopefully these pages share enlightening and useful insights to the wonderful beaches along the Atlantic shoreline - some are highly popular, and some are truly off the beaten path. All are treasures!
A bit about me.
Born in New York some 62 years ago, my family lived all up and down the Eastern Seaboard. For years we lived in the north eastern part of the U.S, including New York, New Jersey and Pennsylvania. When I was 10 we settled down in North Carolina. Wherever we lived, my family's idea of the perfect vacation was to let summer arrive, and then head for the beach.
I grew up in the summers vacationing at eastern beaches and seashores. We'd fish alongside grand old lighthouses on the Jersey Shore catching everything from pufferfish and striped bass to sea eels. I fondly remember the old boardwalk in Atlantic City, and the wind-worn rental cottages we'd occupy for weeks of adventure.
A few years later we headed south. I'd walk with my Mom, Dad and brother in search of shells between Topsail Island and Lea Island, NC while the tide was low. Sometimes we'd set off to Florida to visit relatives and friends at seaside spots like Del Ray Beach and St. Augustine Beach.
It became a sort of hunt, searching for the best beach we could call our summer "home." We finally came to rest at quiet, wonderful Sunset Beach, NC. This is where my parents, ready to retire, bought a summer cottage just off the beachfront.
As time passed, my college friends and I would take off to Myrtle Beach, SC or visit Atlantic Beach or Nags Head in North Carolina. We'd take in the pavilions, the nightlife and music on the beach, or go shopping in flip flops and eat in the best seafood restaurants ever.
More years go by, and my own family takes shape - with my wonderful husband of 35 years and 2 sons, now men with their own families. Our children grew up with many summers at Sunset Beach ... learning to fish, build sand castles, throw the minnow net, and to simply play and (sometimes) rest.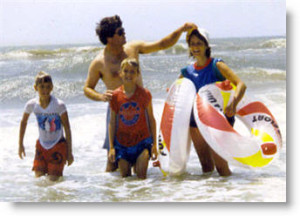 Sunset Beach was "special" in other ways. For years, the only access to the island was its little, old one-lane pontoon bridge. Every hour, the bridge would swing open for the boats traveling the Intracoastal Waterway to pass through - and travelers by car would wait in lines, watching the parade of sailboats, tugs and fishing boats go by.
Things change. Sunset has become such a favorite beach to so many, the little swing bridge is now gone, replaced by a high-rise bridge. And like the bridge, my parents have gone on as well.
With all of these special memories, this site is dedicated to my parents... and to all of you who share their love for the wind off the surf, wading out chest-deep to make the perfect cast, and the gentle sound of the waves at low tide.
Every single one of the beaches along the East Coast has its own rich flavor. Some beaches are alive and bustling, some are peaceful, hidden secrets. Go on your own beach hunt, and find your favorite East Coast beaches!
All my best,
Trish