Want to visit Georgia beaches? Get ready for a vacation with endless possibilities! Take the family on a dolphin tour, ride a horse on the beach, see the islands by helicopter, go kayaking, or charter an unforgettable fishing trip.
Play golf on world-famous courses, and at the end of the day hit the spa. You can bicycle for miles on the packed sand alongside the gentle surf. Go resort hopping, or camp beneath live oaks covered with Spanish moss... Georgia beach vacations have it all in spades.
You'll enjoy charming cottage rentals and the finest hotels. Campsites are excellent and public beaches are fantastic. Feast on scrumptious meals, and come to know the hospitality of these remarkable islands.
Vacation Guide to the Georgia Beaches
Tybee Island
What can I say about Tybee Island except, let the vacation begin! What a refreshing beach setting, with gracious hotels, inns and cottages, and tons of events all year where vacationers join right in. Things are different on Tybee - in the best way! Maybe my favorite beach in Georgia.
Sea Island, GA 
Sea Island beach resort, 85 miles south of Savannah, is the world famous resort island where life is good and the living is real easy. Besides being a golfer's paradise, this is a true family beach resort where hotels, recreation and restaurants are second to none. And the beaches? Unspoiled and magnificent. You can lose yourself here.
St. Simons Island, GA 
St. Simons Island feels less "touristy" than some other East Coast beaches. It just has a quaint, southern feel to it. Praised by Money magazine as one of the "Best Places to Retire" in America, St. Simons is known for its spectacular seashore, moss-draped live oaks, wonderful island shops and terrific restaurants.
Jekyll Island is a beach resort filled with fascinating history and beautiful beaches. As a state park, Jekyll is home to Georgia's largest public golf complex, excellent tennis facilities, plus fishing, sailing, horseback riding and water sports galore. You'll be intrigued by the choice of places to stay, from beautiful vacation homes to a magnificent old resort hotel restored to its original grandeur.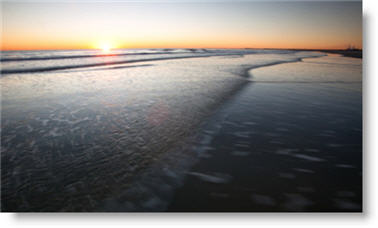 Chart a Course for Georgia Beach Vacations
I-95 is the main interstate running north and south along the Georgia coast, and I-16 is the interstate that brings you in from the west.
Map of Georgia Islands & Beaches
Tybee Island is very handy to the mainland, just 18 miles east of Savannah. From Savannah, US Hwy 80 takes you into Tybee Island.
Travel south on I-95 and you reach the Golden Isles, a cluster of Georgia islands that includes St. Simons Island, Sea Island, and Jekyll Island. They're so close to one another, it's easy to roll several Georgia beach vacations into one trip.
St. Simons Island is about 85 miles south of Savannah GA. Exit off I-95 onto U.S.  Hwy 17, and then exit onto FJ Torras Causeway - the only access to St. Simons Island. Sea Island is right next to St. Simons, and to get to it you go across the causeway that connects the two islands.
Just below St. Simons and Sea Island is Jekyll Island. Jekyll is just east of the city of Brunswick, with a 6 mile causeway that links Jekyll to the mainland.
"I wondered why they called these the Golden Isles. Was it the color of the sand, the late-afternoon sun, or the shade of the marsh grass in autumn? Now I know - it's the way you feel when you're there."
— Kim Cross, Travel Writer for Southern Living Magazine
Easy living, the beauty of the lowcountry, and southern hospitality is what brings people back time after time for unforgettable Georgia beach vacations.