For an unforgettable vacation, ocean cruise deals offer great savings. You can travel to dozens of beach destinations with various amenities included, from dining to entertainment. There are endless things to do and hundreds of fascinating ports and salty sea towns along the Atlantic seaboard. And, you only have to unpack once.
Even more important than the deals you can find are the unique and exciting ships to voyage on. From mammoth cruise lines and luxury yachts, to tall ships and schooners, there are oodles of fantastic cruise adventures and junkets that you may have never heard of.
Guide to East Coast Cruise Deals ⋅ Ships ⋅ Destinations
Find cruise lines and maritime journeys to the top destinations on the eastern seaboard. Discover unique getaways and incredible ships – travel from Florida to the Carolinas to Canada and beyond!
American Cruise Lines
"Small ship cruising done perfectly™"
This amazing fleet of ships travel the USA to the following destinations:
Northeast US
Southeast US
Special Theme Cruises
Pearl Seas Cruises
A new line of luxury adventure cruises into the culture, customs and cuisine of Atlantic ports such as
Maritime New England
Colonial America (Portland, ME to Freeport, Bahamas)
Path of the Explorers – Southbound (West Palm Beach, FL to St. Martin)
Path of the Explorers – Northbound (Puerto Rico to Freeport, Bahamas)
Call: 1-800-981-9146
Visit: www.pearlseascruises.com
Royal Caribbean – Canada / New England
Cruise deals to rocky shores, lighthouses and charm of coastal New England and Canada. Eat fresh lobster, experience Newfoundland … leave it to the incomparable Royal Caribbean fleet to take you there!
Call: 1- 866-562-7625
Visit: www.royalcaribbean.com
Sunstone Tours & Cruises
Rich, life-changing small ship adventure cruises along the East Coast. Excursions include intimate treks to and though
Mid-Atlantic Islands (sailing between Maryland and South Carolina)
Historic South & Golden Isles (South Carolina to Florida)
East Coast Inland Passage (Maryland to Florida)
Chesapeake Bay
New England Islands
Maine Coast & Harbors
Call: 1-888-815-5428
Visit: www.sunstonetours.com
Blount Small Ship Adventures
"Go where the big ships cannot!"
Discover unique destinations, amazing ships and once in a lifetime personal cruising adventure.
Visit the Northeast
Maine, Rhode Island, New Brunswick
New York to Montreal
Islands of New England
Explore the Southeast
Atlantic Coastal Waterways: Florida to Rhode Island
Southern Antebellum: Charleston to Jacksonville
Call: 1-800-556-7450
Visit: www.blountsmallshipadventures.com
Princes Cruises – Canada & New England
The majestic, well-known Princess fleet offers stunning tours of Canada and New England:
Travel the Historic America cruise
Try to Land & Sea Cruisetours
Visit Quebec or Head to Nova Scotia
Call: 1-800-774-6237
Visit: www.princess.com
East Coast Yacht Cruises
Private, luxury, charter yachts and leisure party boats for all occasions! East Coast Yacht Cruises services New York City, New Jersey, Long Island, Connecticut, Rhode Island and Florida,
Call: 1-800-278-7178
Visit: www.eastcoastyachtcruises.com
Liberty Fleet of Tall Ships – Boston – Caribbean - Bahamas
Sail aboard classic Schooners! Extraordinary Tall Ship sailing voyages are offered, from Day Sails, Group Outings, Private Charters and Week-long getaways. Check out their itinerary, including:
Boston Harbor Sailing Cruise
Windjammer Cruises (New England, the Chesapeake Bay, along the East Coast, and to the Bahamas and Caribbean Islands)
Call: 1-617-742-0333
Visit: http://www.libertyfleet.com/
Maine Windjammer Cruises
Sail the original Windjammer Fleet established in 1936. These National Landmark schooners offer affordable, comfortable all inclusive sailing vacations. Experience the sensational tall-masted schooners, and enjoy carefree days exploring the islands of Maine.
Call: 1-800-736-7981, (207) 236-2938
Visit: www.mainewindjammercruises.com
Schooner Mary Day (a Maine sailing legend)
For more than half a century, vacationers have returned to unwind and relax on the one-of-a-kind sailing vacations aboard the historic Maine windjammer, Mary Day. Every cruise sets sail from Camden with no set itinerary. Their goals is to unplug from all the distractions of the world and just enjoy some great sailing. Now that's what we call a vacation!
Call: 1-800-992-2218
Visit: http://schoonermaryday.com/
Wanderbird Expedition Cruises
Cruising the Coast of Maine and the Far North
Get restored in the friendly, comfy yacht-style furnished cabins, and dine on heavenly, homemade food and pastries. Only 12 passengers per cruise! So relax—and relish in the peace and beauty of the coastal waters of Maine, Alaska, Nova Scotia, Newfoundland, Labrador and more. Unmistakably amazing voyages!
Call: 1-866-SEA-BIRD or 1-866-732-2473
Visit: www.wanderbirdcruises.com
USA River Cruises
Atlantic Coastal Waterways: Florida to Rhode Island
Since 1996, USA River Cruises has specialized in small-ship cruises (ships that hold less than 600 passengers). Travel along the Atlantic Coastal Waterways from Amelia Island in Florida to the Chesapeake Bay up to the East River and the Narragansett Bay. You'll stop along the way to sample warm hospitality, sunny east coast beaches and salty towns, and historic sights – an unforgettable expedition.
Call: 1-800-578-1479
Visit: http://usarivercruises.com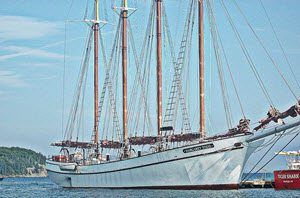 Some of the smaller ship cruises offer a cozier atmosphere and a chance to explore the coastal waterways and sounds. Forget rigid time tables and dressing for dinner. You'll visit the incredible port towns of the Atlantic U.S. and meet the people who live there as you dock at each port.
Not all cruise deals need to venture to the Bahamas or Virgin Islands – imagine sailing to Nantucket, Martha's Vineyard, Gloucester and Bar Harbor, Maine. Try Boston Harbor cruise sailing, even take the helm and hoist the sails! Set out to cruise the Atlantic Intercoastal Waterway for a unique glimpse of America's southern east coast beaches and seaside towns.
America's east coast beaches and heritage have so much to offer, from revolutionary war and civil war history, to limitless birds and wildlife, to time-worn lighthouses.
Whether you head for a fantastic journey on big, open water or hug the intercoastal waterway – may your Atlantic cruise vacation be truly unforgettable!