If life is a beach, North Carolina beaches are where to live it. Tranquil, uncluttered and without equal, NC beaches have kept their soul - that special essence of "away from it all."
Picture this: Small, classic beach towns nestled on the NC barrier islands. Wide, sandy beaches, kids flying kites into the surf wind, shrimp boats on the horizon, the Intracoastal Waterway dividing the mainland from the islands.
And... there's some of the best deep sea fishing charters, surf and pier fishing you'll ever find off the coast of North Carolina. It's no wonder the Carolina coast is famous for its mouthwatering seafood.
Explore North Carolina Beaches
Visit the islands and beach towns, shown here in order as you drive from north to south along Highway 17 (the "Coastal Highway"):
Topsail Island NC: Most vacationers return to Topsail Island year after year ... It's become a part of their family tradition.
Wrightsville Beach NC: A true resort town. The beaches are fantastic, and there are a host of wonderful beach homes and cottages to rent.
Carolina Beach: Cross the bridge to the barrier island home of the gentle surf and sands of wonderful Carolina Beach.
Holden Beach North Carolina: Nine serene miles of beach, just perfect for boating, fishing, and swimming. No hotels, just wonderful beach cottages and vacation homes.
Ocean Isle Beach NC: Winner of the 2008 Best Restored Beach Awards, this family beach wins on every level!
Sunset Beach NC: Sunset Beach NC is a 3 mile stretch of heaven. See why we say Sunset Beach is our Top Pick.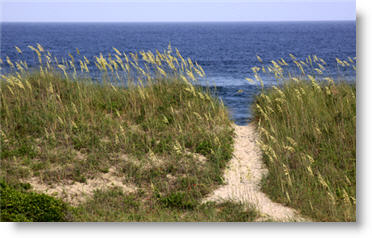 "Why there's nothing like a North Carolina Beach Vacation"
On many NC beaches, life is simple - a bike will get you anywhere you want to go. Still others offer oceanfront resorts and hotels that surround you with the comforts of calabash-style seafood platters, boating and sailing, charming shops and watersports.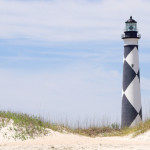 North Carolina's 320 miles of coastline are bordered by a series of narrow barrier islands. The sights you'll see along the way are lighthouses, fishing piers, marinas and vacation homes.
You'll pass by old battle sites attesting to southern history, and premiere golf courses suggesting southern elegance. You'll see foot paths through the dunes, protected by sea oats. Most of all, you'll encounter some of the warmest, friendliest people you'll ever meet.
Stop in for a visit at your choice of hotel, beach rental cottage, cozy inn or campsite... and become one of the NC beach lovers who return year after year.
Pick your favorite Carolina beach vacation, pack up your gear, and put your toes in the sand. I'd rather be at the NC beaches!
And... be sure to explore the Outer Banks of NC.