Check out professional fishing charters for your next deep sea or near shore fishing trip. Locate your charter boat, captain and crew – our guide lists the best in the business.
Offshore, Inshore Guided Fishing Trips By State
View charter boat contact information for deep sea and inshore fishing packages. Learn the captain and crew's background, the variety of fish they catch and trips they book, the boat you'll be fishing on, how to contact the captain and more.
North Carolina
Topsail Island Offshore Fishing
Holden Beach Charters
Here, fishy fishy
The best deep sea fishing in the world is on the east coast. There's a tremendous variety of beautiful big game species for catch and release, and smaller fish for a healthy, scrumptious meal. To name a few:
Cod, haddock, tuna, striped bass, bluefish, flounder, snapper, tautog, drum, croaker - and you might spot a whale.
Mid Atlantic: Sailfish, king mackerel, blue marlin, wahoo, tuna, shark and mahi mahi (dolphin), drum. Inshore you'll find bluefish, sea bass, drum, rockfish, founder, trout, croaker.
South Atlantic: Amberjack, grouper, sea bass, sheepshead, spot-tailed bass, cobia, snapper, barracuda, mahi mahi, Spanish mackerel, king mackerel, shark, flounder, redfish, kingfish, wahoo and sea trout.
For a fishing experience of a lifetime, schedule an exciting day or more of deep sea fishing - and professional fishing charters are the way to go!
 What's Great about Fishing Charters?
People travel from all over the world to fish along the Atlantic Coast of the United States. Charters will take you out to sea for a half-day or full day adventure.
Fishing charters furnish the rod, reel, bait, and even the saltwater fishing license for you. Most of all, they furnish their expertise. Captain and crew know where the fish are, and their goal is to make sure their guests have the most successful and enjoyable fishing trip possible.
Charter boats are often based out of sound and inlet harbors and marinas where they have quick access to offhshore waters and,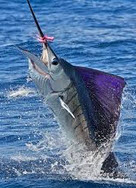 for many, the Gulf Stream.
Deep sea fishing and near shore angling continues year-round, with heated cabins to provide comfort, but often the best action is spring through late fall, depending on the species. Saltwater fishing licenses are required at the ocean, bays, and most tributaries of brackish rivers.