Hit the Outer Banks, NC - Plan Your OBX Vacation!
An unforgettable cluster of islands, the Outer Banks beaches stretch along the Currituck, Dare and Hyde County coastlines for over 100 miles. Locals call themselves "bankers" and beach lovers everywhere know the entire area as OBX.
Beginning at the north end is Corolla, NC - a beach village that won me over the first time I set foot in the sand there. Travel south of Corolla on Highway 12, and you'll slip into the Dare County beach communities of Sanderling, Duck and Southern Shores. These small, upscale beach towns are beautifully developed. There is a special quality to the Outer Banks beach house rentals here, both oceanfront and on the Currituck Sound.
An easy drive down NC 12 from Duck, are the three most developed beaches of the islands. Shoulder to shoulder are Kitty Hawk, Kill Devil Hills and Nags Head. The feel and flavor of these Outer Banks villages are what the North Carolina beaches are all about - there's a special something that connects with people and lasts a lifetime!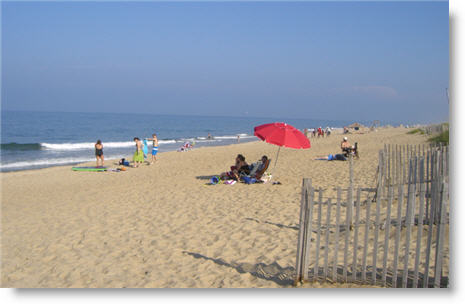 Tour the Outer Banks, NC
Corolla NC - This beautiful beach community rests on the northern end of the Outer Banks, North Carolina. The extension of NC 12 highway in the 1980s has drawn vacationers from northern and southern states. And though tourism and beach rental houses have boomed, the fundamental simplicity of Corolla has not been altered.
Duck NC - Trendy, fun, upscale... everyone should check out Duck. On one side is the Currituck Sound, stretching as far as the eye can see. Like Corolla, the beachfront is wide and the sand slopes gently to the ocean. Duck vacation rentals are quite impressive, ranging from the beautifully quant to "beach rental mansions" sleeping four to six families or more. You'll find shopping, dining and recreational opportunities that are unique only to Duck.
Kitty Hawk NC - A genuine cottage community, Kitty Hawk is as casual in appearance and in attitude as any place you'll find on the North Carolina coast. A peaceful ocean resort town, Kitty Hawk offers some of the best beach recreation in North Carolina. Still, life here is lived at the leisurely pace that "bankers" revere.
Kill Devil Hills NC - From the Wright Brothers Memorial to incredible public beach access and public boating access, Kill Devil Hills rests on almost 5 miles of spectacular oceanfront. Vacationers will find a wider choice of hotels and restaurants than in neighboring Kitty Hawk.
Nags Head NC - There is undeniable heritage that permeates the 11 miles of beachfront of Nags Head beach community. You'll find an amazing contrast of old and new lodging at Nags Head, from new or weather-beaten beach rentals to chain hotels. Vacationers enjoy every water sport imaginable, and the main road (Highway 158) displays a wonderful variety of restaurants, shopping, and family fun from goofy golf to bumper cars. If you know where to look, century-old cottages of cedar siding that have tussled through decades of storms and salty winds, still define the genteel Nags Head oceanfront.
Outer Banks Map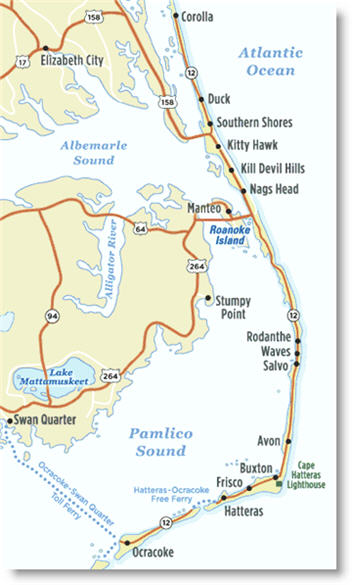 On the Outer Banks, the quality of attractions are a cut above.
Active beach goers will find easy access to parasailing, hang gliding, jet skiing, kayaking or surfing. Drive over miles of beaches with a 4x4. Fishing is big on the Outer Banks, from charter fishing boats to surf and pier fishing. Golfers can tee it up at any of seven championship golf courses. Excellent OBX restaurants and beach shops dot every town, plus fun parks abound that are super for kids.
Lighthouses, State Parks and Educational Fun at OBX
If you ever want to see miles of empty beach, head further south through the Cape Hatteras National Seashore. Crossing Oregon Inlet changes everything. Driving becomes miles of tranquility, with incredible remote access to incredible fishing, swimming, kayaking, and hiking. Bird watching at Pea Island National Wildlife Refuge reveals a treasure of protected seashore wildfowl.
Find your OBX Vacation Rental!
At day's end, you'll find rest and relaxation among the great choices of OBX hotels and beach rentals. There's lodging that will accommodate everyone's budget. But most of all, wherever you land on the Outer Banks, North Carolina, you're never far from the ocean.
What's below the Outer Banks? Check out more fantastic North Carolina Beaches along the lower coast.