Vacations along the beautiful Cape Cod seashore will lead you to a world that you never thought you would find in New England. This area has some of the best beaches in the country - in fact, there are 115 beaches to choose from, set upon 500 miles of magnificent coast.
Cape Cod is full of islands, salt ponds and bayside beaches that keep the waters warm and calm. Beaches are also directly on the ocean, which brings about stronger winds and higher waves. This is a truly dynamic area of the country.
Plan your vacations to make the most of these fascinating beaches. Take a whale watching cruise, eat the freshest lobster at five-star restaurants, charter a deep sea fishing expedition, enjoy a clambake, or bike for miles over paved trails exploding with scenery you'll never see anywhere else.
Cape Cod has been named one of the Top Ten places in the world for windsurfing, and in the U.S. for best beaches and year-round golfing. You won't be disappointed by what you find during Cape Cod vacations at the beach!
Cape Cod Cottage Rentals, Resorts, and Hotels
Area resorts, hotels and bed & breakfasts offer some of the best, most unique lodging in America. You can choose from world-class resorts or mom-and-mop motels.
Cottage rentals feature magnificent oceanfront homes as well as charming cottage colonies, perfect for families and vacation groups. The options for lodging are extensive and there's something for every budget and taste.
The Regions of Cape Cod
Cape Cod encompasses an interesting arrangement of islands, water and peninsula. To begin planning your vacation, here's a look at the regions and beaches in the area.
Upper Cape Cod is nearest the mainland, and is the first part of the Cape that you'll see. The Upper Cape includes the towns of Bourne, Sandwich, Falmouth and Mashpee. Some beaches to plan Upper Cape Cod trips around are
Scusset Beach, a large state-run beach that has lifeguards on duty, as well as snack bars and showers.
Old Silver Beach, a super family beach on Buzzards Bay where the water is warm and gentle, with lifeguards and concessions.
Falmouth Heights Beach, which overlooks Vineyard Sound and Martha's Vineyard - behind the beach is a row of B&Bs and restaurants.
South Cape Beach - part of South Cape Beach State Park - which is a wonderful sandy beach great for swimming and fishing.
The Mid Cape is the central part of the region, and is the most populated. Cape Cod Bay with its wide, shallow beaches and calmer waters lies to the north. Vacations spent on the bay here are excellent for families with kids due to the gradual tides and warm waters that form tidal pools to wade and play in.
The Mid Cape includes the towns of Barnstable, Hyannis, Centerville, Yarmouth and Dennis. West Dennis Beach is a highly popular beach that includes a snack bar, playground, showers and lifeguards. Kalmus Beach is a favorite for windsurfing. Sea Gull Beach, the largest beach on the Mid Cape, is popular with a boardwalk and plenty of beach and water sports.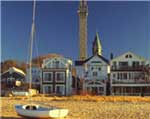 You can plan some excellent vacations along the Nantucket Sound, which lies to the south.
The islands of Martha's Vineyard and Nantucket are located across the Nantucket Sound.
Lower Cape Cod (also referred to as the Outer Cape) is made up of all the rest of the regions, including the towns of Brewster, Chatham, Eastham, Harwich, Orleans, Provincetown, Truro and Wellfleet.
The Cape Cod National Seashore is on the Lower Cape facing the Atlantic Ocean. Coast Guard Beach and Nauset Light Beach are two favorite vacation spots of the Lower Cape Cod beaches. Here the water is colder, the surf can be strong, and the immaculate, sandy beaches on go for miles. Visit the historic lighthouse, Nauset Light, and walk along steep sand cliffs and hiking trails. This is a great spot for surfing, swimming and fishing - you may even spot a whale off the coast.
Map Out Your Cape Cod Vacation
Vacation on the Islands
The Islands of Martha's Vineyard and Nantucket lie south of the Cape Cod mainland.
Martha's Vineyard, a 45-minute ferry ride from the Massachusetts coast, is the largest resort island in New England. Full of charming shops, exquisite dining, beautiful public beaches and plenty of nightlife, Martha's Vineyard is quite legendary! Many residents are famous politicians, movie stars, writers and artists.
Thirty miles from the mainland, Nantucket is a wonderfully preserved and unspoiled island full of history. In the past, Nantucket's fame came from its role as the center of the world's whaling industry. Nantucket now relies on tourism as its main economy, so come prepared for fun!
Here you'll delight in the cobblestone streets, magnificent lighthouses and antique shops. But most of all, Nantucket has some of the most beautiful Cape Cod beaches.
There are bike paths to all parts of the island, and the activities on Nantucket range from sailing and boating, fishing, golfing, music and theater, and island festivals and events held throughout the year.
No matter what beaches you choose to visit, you'll be immersed in a world of New England charm and adventure. Cape Cod vacations are a welcome escape from the "everyday" world. This stretch of the East Coast offers breathtaking views, endless recreation, and excellent vacation travel packages.